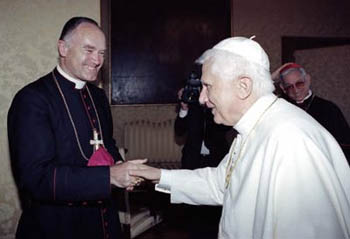 I am not sure whether reconciliation of the SSPX, is on or off for this weekend, I pray ernestly it is on but there seems to be so much horse trading going on in the background, it is difficult to tell.
In fact it is necessary only to reconcile Bishop Fellay and lift the canonical censures imposed on the clergy in communion with him, apart from where they go to Mass (or school) it doesn't affect the laity, who not being members of the Priestly Society are always lay Catholics in good standing.
It is worth remembering the Catholic Church is at its core a Communion of Bishops in Communion with the Bishop of Rome. In the past when Eastern Rite Church's were reconciled, it was purely a matter the Pope reconciling individual Bishops. The SSPX is slightly more complex because they are extra-territorial. The problem will come in few cases with straightening the ruffled feathers of those bishops in whose territory they present.
After reconciliation of course comes the battle within the Society over property and so forth but only if some fail to come with Bishop Fellay. Presumably everything was set up with a view towards reconciliation, and Trusts exist to ensure property belongs to the Society rather than groups within it, otherwise it will be field day for lawyers.
I am intrigued though about what will happen to those who are not reconciled, if it happens, are some clergy going to be homeless and churchless on Monday?