I don't fear atheism or aggressive secularism as much as I fear Catholics who have lost their faith bur remain in professional roles within the Church, There seem to be a awful lot of them on the right and left who contribute nothing to the life of the Church, in fact they suck it dry or damage its Christocentricity, they are interested in church politics and factions or they use the Church to satisfy and further their own needs. People like this can be found in every Catholic school and parish, in diocesan curial offices, in choir galleries and music groups, in theological faculties, in fact they are everywhere and they are legion.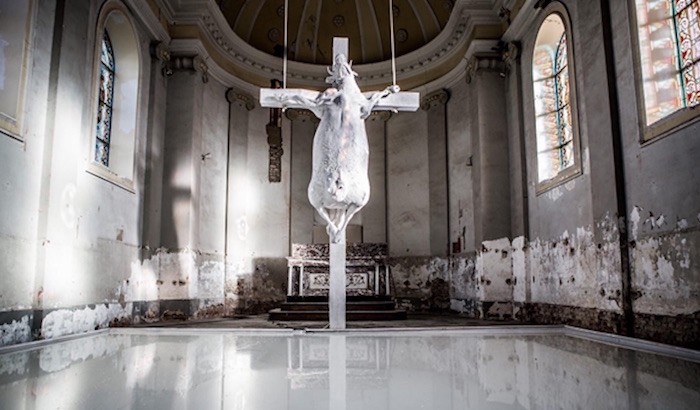 Increasingly there is a strong division between the episcopacy and the people, in recent weeks young men have been forcibly removed from churches in Belgium and France over Reformation celebrations, in Belgium, as in Germany and Austria protests over art installation, the latest being
a crucified cow in a Belgium church
. It seems really odd that any bishop or priest would allow such things and that they would not realise how appalled the faithful might be. On the continent it could be that the local civic authority rather than the clergy have control over what is put into churches but one might expect senior clergy to be more shocked not less shocked than the laity.
When lay people lose faith, unless they are Church employees or gain some satisfaction like performing, they simply stop practicing and supporting the Church and its activities and in effect they disappear. When clergy, especially those of a certain age, stop believing they carry on, either with a lack of enthusiasm or actively undermining the faith of those who still believe and pushing their own particular agenda, in many cases they become even more concerned about developing their own careers.
It is important to remember when faith goes, so too do the other theological virtues, hope and charity. The result is people who are depressed and bitter or cruel or those who are aggressively destructive of faith and those things that speak of faith, they become practically and supernaturally anti-Christ. We Catholics understand faith as the foundational virtue which if it is present always produces fruit. If the fruit is rotten, then faith is likely to be dead and the tree unsound or dead. I remember a prelate who gutted his church and threatened to sue parishioners who objected, he used to send one particular couple a Christmas each year renewing the threat.
This article appeared a few days ago
, which, if as I suspect it is true, it explains Pope Benedict's reference to "the wolves". A great deal of the confusion and pain in the Church today and the divide between those who have faith in Jesus, and those who use Christianity for their own agenda; amongst the laity using Christianity is about a backdrop for weddings or funeral, amongst the clergy it can be about career development or exerting power over others, which as we have seen all too vividly can be expressed in sexual terms.